Lightweight Aluminum Wheelchair
Model FS205LHQ
1.6-inch PVC integrated wheel; 24-inch air wheel; configured with 36-wire aluminum ring;
2.The seat cushion is a soft seat cushion, the material is high strength, good air permeability, the middle interlayer is canvas larger than 400d
3.The armrest can be turned back; the inclined armrest structure is convenient to approach the workbench and the dining table; the high-quality lengthened PU armrest pads are adjustable in height; the armrest pads are welded off the central axis, which is convenient for working and dining close to the desktop.
4.The footrest can be rotated inside and outside for quick release; the height and angle of the foot pedal can be adjusted.
5.The height is adjustable, with a footrest structure, which is convenient for nursing staff to push the wheelchair up and down the steps.
Lightweight Aluminum Wheelchair
●Aluminum chair frame
●Quick release pneumatic rear wheel
●Detachable footrest
●Anti-tippers
●Solid castor
●Angle-adjustable footplate
●Locking drum brake
●Flip-up and height adjustable inclined armrest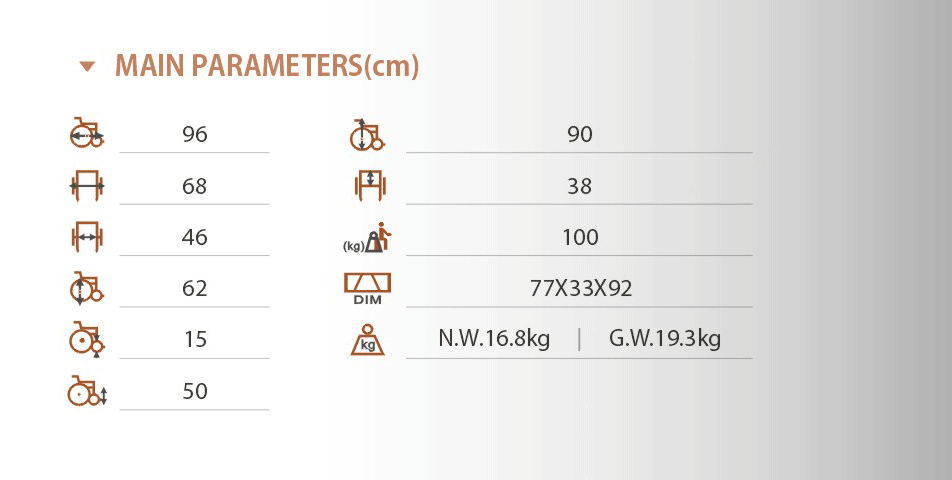 | | |
| --- | --- |
| Project Description | Performance |
| Static stability uphill | Safe |
| Static stability downhill | Safe° |
| Static stability Sideways | Safe° |
| Braking downhill on 8° slope | Safe |
| Tacking characteristics | self-propelled |
| minimum turning radius | ≤850mm |
| minimum turnaround width | ≤1500mm |